We've repeatedly heard how accountants have the highest risk of having their jobs automated. Even though automation is often depicted as a threat, we can see it as an opportunity. An opportunity to:
Cut manual labour;
Remember countless deadlines;
Free your tasklist of routine yet critical administrative tasks.
Top accounting firms use technology to help them get ahead of competitors. Regarding automation, you don't need a custom solution or have to dive head-first into machine learning or artificial intelligence for accountants.
Accountants gain most from simple changes to their work process
Standardising and automating your accounting firm's processes. ‍
A standardized workflow with recurring tasks, checklists and deadlines ensures you don't waste time manually creating and managing tasks. Automating workflow management makes sure you don't waste time.
Integrating your accounting tech stack. 
‍Integrating all your apps and software is the easiest way to avoid spending time copying data or re-checking information. When looking for a software solution, consider how it fits in your existing toolbox, i.e. your emails, accounting software, billing solutions, CRM, etc.
Analysing data to make data-based business decisions. 
‍Automating work generates data, which you can use to make smarter decisions. Analytics help reveal your accounting firm's bottlenecks, optimize processes, increase profit and offer better service. ‍
Accounting team collaboration. 
‍Choosing the right tools can make remote work function for your team and customers. A complete CRM tool is the best way to share information with colleagues when unexpected changes occur
Enhancing client communication
There are several ways to make accountant-client communication more effective. The best of those is a client portal, where you can share documents, ask questions and delegate tasks to clients. And no email is missed anymore.
How to find the best work management software for my accounting firm?
An increasing number of work management software solutions on the market fulfil the needs of accounting firms and financial teams. 
Some are purely for practice management. In others, it comes as a part of a more significant range of features. Automation is here to make your life easier. Finding the right fit for your company depends on your accounting firm, clients, other software you use, budget and personal preferences.
Here are the best accounting practice management software options on the UK market, with particular attention to accounting work management, time tracking, billing, collaboration, reporting, CRM and user-friendliness.
1. Karbon
2. Uku
3. Senta
5. Pixie
7. Capium
1. Karbon – the best solution for financial teams
Karbon has been a serious player on the market since 2014. It's designed for accounting firms and built with collaboration at its core. With good, yet somewhat limited possibilities, it's a good choice for financial teams. Accounting firms who need to track and manage billable hours and want to offer a customer portal, should probably opt for something else.
Work management 
Fully integrated emails – to use Karbon you need to integrate your Microsoft Office 365 or Gmail account and manage your emails from there. It allows you to assign them to colleagues, log them against projects, and more.
Automated tasks and emails – set dependency rules to create new tasks or send emails.
Big template library which you can customize according to your needs
Kanban board that gives you an overview of tasks and their statuses
Work tasks and subtasks checklist 
Time tracking & billing
Doesn't have (they plan to add billing)
Collaboration
Fully integrated email – allows you to assign emails to team members.
Automated reminders – set rules when you want to get reminders.
Task communication – mentions, assigning and commenting tasks
Reporting
Task status – work started, completed on time, overdue
Average time to complete task – calculated from the time the first change was made to the task until it's marked done.
Leaderboard (open work, completed, overdue)
Time and budget estimates
User-friendliness
Thanks to limited features and no workflow, the overall experience is simple and fast with a clean and modern design.
Pricing:
Limited plan: £29-40/month per user
Standard plan: £44-55/month per user
‍
‍
2. Uku – the best solution for accounting firms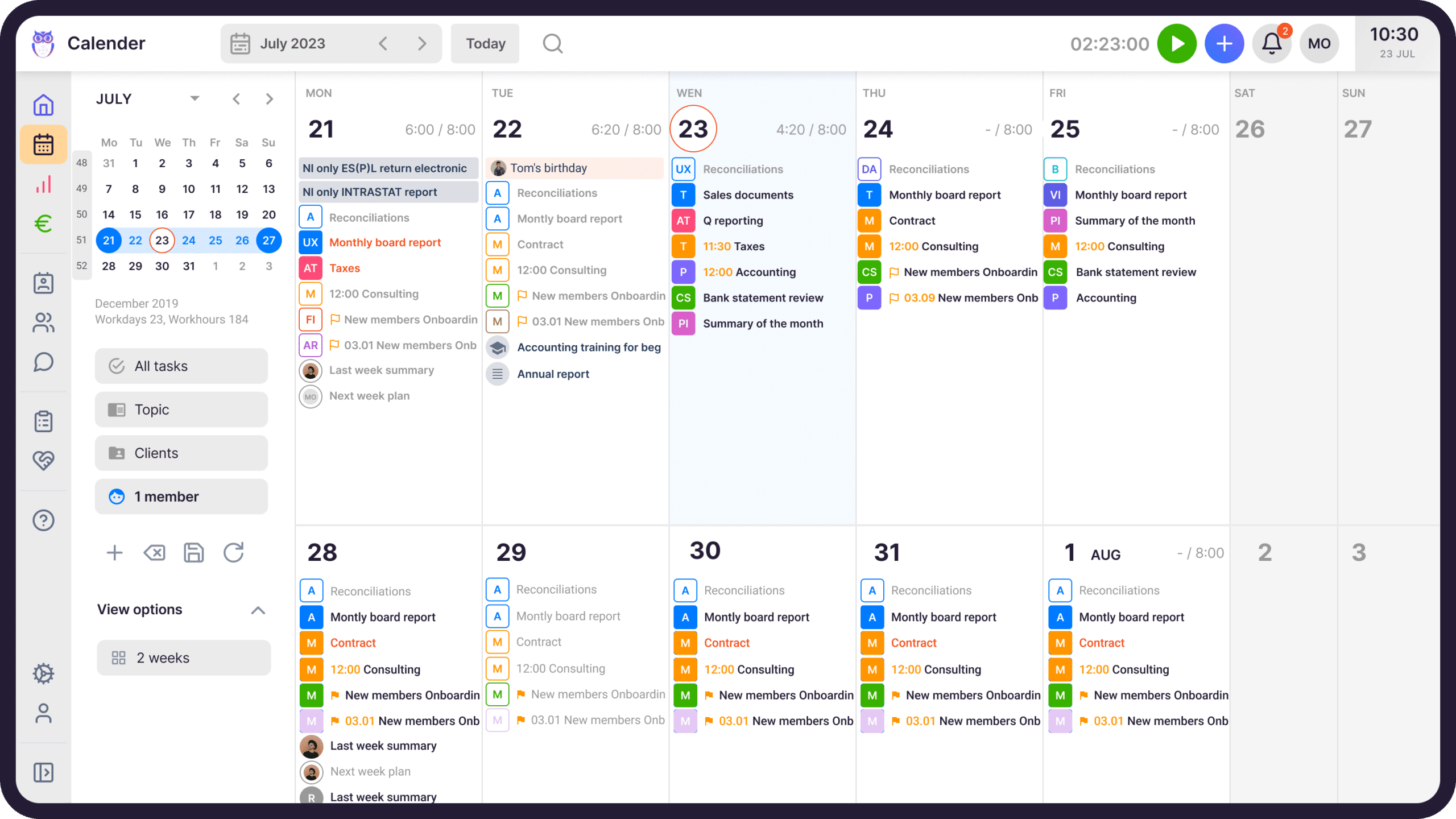 Uku is a smart assistant for accounting practices, making managing their back office operations simple and effective. The software helps automate workflows across the practice and gives both detailed insights and big big-picture overview of work progress, team performance and profitability. The users also bring out their exceptionally helpful support team.
Book a 30-minute personal Uku demo or Create a free Uku account
Work management
Workflow management – dashboard with today's relevant tasks; set time forecasts and distribute workload evenly between days.
Email management – one-time emails; email automation based on task completion, start or end time; email templates; client communication timeline.
Automated customer-based work plans – create a work plan for each client and right tasks will be assigned to the right employee's dashboard at the right time.
Workflow and work plan templates – create templates or use pre-made templates so you don't have to create client work plans from scratch.
Powerful calendar – plan and rearrange tasks, use filters to sort out tasks at your interest.
Time tracking and billing
Automated time tracking – set time forecast to tasks, and when you mark the task done, Uku will automatically mark it as time spent on the task.
Time tracking – measure time with the stopwatch or log it to one or multiple tasks.
Time estimations – estimate and manage the company workload.
Billable/not billable –  distinguish time entries which you want to add to the client's invoice and which you do not.
Automated billing – create personalized billing contracts for the clients and, hereinafter generate invoices automatically. Dynamic pricing: time, fixed, item & mix.
Collaboration
Assigning and substituting tasks – assign one or multiple tasks temporarily or permanently to other team members. This makes holiday and sick leave replacement smooth.
Shared tasks – assign tasks to multiple people or to groups.
Following tasks – get quick access to your team members' tasks without having them on your own dashboard.
Client profile and notes – keep all important client information in one place.
Task communication – leave comments, mention team members and leave attachments.
Reporting
Detailed time expense report by client, team member and task.
Overdue tasks overview by client, team member, etc.
Client agreements monitoring – report where you can compare the client's contractual workload (hours, entries, documents, etc) with actual work done.
Dynamic filters – filter information by date, team member, client, topic, task status, and name.
User-friendliness
A beautiful and well-structured system that is highly customizable.
Mini Uku – browser extension to use the software in other browser windows.
Pricing:
Limited plan: Free
Standard plan: £29-49/month per user
‍
Book a 30-minute personal Uku demo or Create a free Uku account
‍
3. Senta – best for IRIS accounting software users
Senta is a practice management software for accountants and bookkeepers which combines email and text automation, secure document exchange and a client portal. It's rigid structure and weak navigation and reporting makes it somewhat challenging to use. As a part of the IRIS Software ecosystem, it's the best solution for IRIS accounting software users.
Work management 
Automated workflow – add recurring tasks to clients; based on the set rules, tasks will be assigned to team members; customizable tasks.
Customizable dashboard – add or remove about 20 different widgets.
Automatic task creation and completion based on pre-set filters and events occurring in Senta.
Time tracking & billing
Add-on for time tracking – click on the specific job and enter a few details to log time.
Basic time report about all recorded work across the firm for each client.
No billing
Collaboration
Client portal – document management, document signature requesting
Task communication – notes, checklists, mentions
Client information from emails – connect your email service (e.g. Outlook, Gmail) to Senta, pull in emails from relevant clients and organize them in the client record. This gives you one place to review everything related to the client.
Auto-reminders to complete certain tasks (e.g. tax preparation and tax resolution)
Reporting
Basic dashboard widgets – summary of tasks and their statuses by clients or work. You can further narrow the information with flexible filters.
User-friendliness
The set up will likely take some time to master (you need training).
A lot of information makes the interface overcrowded.
Design from 2010's.
Pricing: 16,50-29 £/month per user (depending on the number of users)
4. Xero Practice Manager – best for Xero accounting software users
Xero Practice Management  is a basic tool for accounting practice with limited functionality. If you're a Xero accounting software power user that's heavy into time-based billing, you may want to give this accounting practice management software a look. Other firms may want to look elsewhere.
Work management 
Dashboard for task management – 2 time-based widgets, a calendar with upcoming jobs and tasks (e.g. tax resolution due dates), a list view of upcoming tasks and jobs
Client work plans – jobs with its subtasks (e.g. a job like an accounting month-end close and its subtasks).
Task status – move the job through different job states (by default: planned, in-progress, on-hold, complete) which affects how information is displayed.
Time tracking & billing
Basic time tracking – log time manually or measure it precisely with the stopper.
Billing (integrated with Xero, no other option)
XPM's quoting functionality which you can then turn into jobs and invoices.
Collaboration
Notes – team members can add notes to tasks, jobs, and in the client records.
Documents – can be uploaded into jobs and the client records.
Notifications – being assigned to a new job, new job notes, new job tasks, tasks completed, new job documents.
Collaboration manager – forward emails to tasks using a dedicated email address assigned to each task. Unfortunately, this is far behind something like Karbon's triage feature.
No client portal
Reporting
Many reports and options to customize your own.
Timesheets section which shows logged time for a given period.
Options to compare your budgets to actual results within the job or within the report which might be interesting for tax practice management.
User-friendliness
Quite complex set-up process – not that intuitive, but once everything is set up it gets easier.
Nice looking interface
Time-consuming to use (actions require many clicks)
Pricing: 123 £/month for up to 10 users (no charge for Xero silver level partners)
‍
5. Pixie – best for small companies with basic needs
Pixie is a simple and flexible practice management software for small accounting and bookkeeping companies. It has all the core integrations, and many features like email management, client management, workflow management, task management, and reporting. Users say the best thing about it is it's simplicity. Yet the simplicity comes with a price, as it's missing core features like time tracking and billing.
Work management 
Task and deadline management – recurring tasks, workflow management, task statuses, automatic task creation based on set rules.
Templates – choose the template from the template library or create your own.
Email management – connect your email to Pixie and turn emails into tasks, delegate them, link to tasks, etc. Send automatic client email reminders.
Automated client onboarding – automated welcome emails with document requests, assign tasks and checklists to your clients.
AML checks with Xama.
Time tracking & billing
No time tracking and billing solutions
Collaboration
Client portal – request documents or document signing.
Assigning and forwarding tasks and emails
Notes – team members can add notes to tasks, jobs, and in the client records.
Documents – can be uploaded into jobs and the client records.
Notifications – being assigned to a new job, new job notes, new job tasks, task completed, email have been read.
Reporting
Very basic reporting (overdue tasks)
User-friendliness
Uncluttered and clean interface
Pricing: 53-282 £/month per company
‍
6. Accountancy Manager – best for tech-savvy companies
Accountancy Manager is a strong player on the market with high functionality and many possibilities. It can be a challenge to set up but when that's done, it's a capable tool to help you streamline company processes. It has all the core functionalities an accountancy company could wish from a practice management software.
Here's a handy comparison of Uku to Accountancy Manager for you to make a better decision.
Work management 
Automated task management – create client's work plan with recurring tasks to automate task management.
Automated client onboarding – professional clearance, automatic proposals and letters of engagement.
Work plan templates – create templates so you don't have to create client work plans from scratch.
Time tracking & billing
Time tracking – log time manually or measure it with the stopper.
Invoicing – time based or fix fee invoices.
Collaboration
Client portal to manage documents and ask for signatures (form filling, document management, branding, e-signatures, deadlines).
Notifications – You'll get a notification when a client uploads or signs a document, completes a form or updates their details. Other notifications include: deadline approaching, new tasks assigned to you, changes to your tasks – and many more.
Automated client emails – create email templates for each service and emails will be sent out automatically at the right time, to the right clients.
Reporting
Visual and informative reports – how time has been spent
Client-based profit reports 
User-friendliness
Modern interface with systematized design (spreadsheets, forms).
Not very convenient to use – due to many features, you have to do many clicks.
Pricing: 31,2-39 £/month per user
7. Capium – best for Capium Full Accountant Suite users
Capium Practice Management is one module of Capium full suite solution. They offer client service tools from client tracking, scheduling and deadline calendars to CRM and invoicing. If you want to use it as your main workspace, you need to use other modules as well (e.g. bookkeeping, payroll, etc).
Work management 
Task management calendar to track individual work or activity throughout the firm.
Deadline management with automated reminders
AML process
E-signing
Time tracking & billing
The timesheet module tracks time spent on specific tasks and clients.
Billing – customised invoices can be emailed from the system, which also records received payments.
Collaboration
Mobile app for clients lets them send expense receipts, correspondence and documents.
Online document management hosts client files for sharing and authorisation.
Built-in CRM retains standing data on clients and prospects and logs communications with them.
Reporting
User-friendliness
Relatively easy to use
Customizable – the solution comes in modular form, with a range of add-ons for corporation tax, accounts production, practice management, self-assessment, payroll and bookkeeping
Pricing: 115-345 £/month per company (up to 500 clients)
8. Practice Ignition – best for billing
Practice Ignition is first and foremost an invoicing software, automating proposals, contracts and payments. You can customize services, use various pricing and accept different payment methods. For full accounting practice management, you'll most likely need some additional software.
Work management 
Proposal and pipeline management – whether the proposal is simply for a customer to pay an invoice or a pitch and journey of a new client, the process is the same.
No workflow management – some integrations available.
Time tracking & billing
Recurring billing – integrated with Xero and Quickbooks.
Client payments and payment status – bill clients automatically for your services. Good for value-based pricing.
Collaboration
Client management – all client data in one place (contact info, client communication, contracts, proposals sent, invoices received, payments received, outstanding payments and much more).
Reporting
Reporting about billing – proposals sent and accepted, payments (collected, rejected)
User-friendliness
Easy to use, modern interface
Pricing: 56-299 £/month per company